As we all know, Asphalt Mixing Plant is a complete set of machinery for producing asphalt concrete mixture, which can meet the needs of highway, airport, port and other construction. Asphalt mixing plant is a good helper for many construction projects. It is worth mentioning that mobile asphalt mixing plant is deeply loved and trusted by customers for its superior quality and performance. Why is the mobile asphalt mixing plant loved and trusted by users? Detailed explanation would be given hereunder.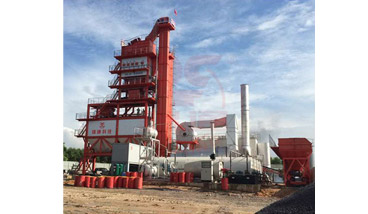 Mobile asphalt mixing plant adopts modular design, including batching system, drying system, combustion system, hot material lifting, vibrating screen, heat storage material, weighing and mixing system, asphalt supply system, powder supply system, dust removal system, Finished product silos, control systems, etc. Moreover, the module design is very convenient for users to install and move.
The mobile asphalt mixing plant has unique mixing blades to ensure its reliable working performance and strong mixing ability. The cold riveting process of the vibrating screen of the mobile asphalt mixing plant greatly improves the efficiency and stability, enables the aggregate to be effectively screened in a limited space, and reduces the failure rate of the equipment. The modular design of the dust removal system of the mobile asphalt mixing plant has a specially designed high-temperature filter cloth bag,which would save space and fuel, maximize the filtering area and reduce heat loss.
Mobile asphalt mixing plant covers a small area relatively, easy to move and operate, saving cost, time and manpower. It adopts computer automatic control or manual control system, and its automatic fault diagnosis program ensures the simple and safe operation of the machine. The mobile asphalt mixing plant adopts wear-resistant material, which is stable in operation and has a long service life. In short, the mobile asphalt mixing plant based on the characteristics of high integration and high mobility, is especially suitable for those projects with short pavement length and frequent replacement of operation site.