Asphalt Mixing Plant is necessary equipment for the construction of highways, grade highways, municipal roads, airports and ports. The quality and working condition of this equipment has a great impact on asphalt concrete, which is the most important raw material in construction projects. If there is a problem with the raw materials, it will have an impact on future service life and the effect of the road. Therefore, the stable working state of the asphalt mixing station is very important. Then how to maintain stable work, LB Asphalt Mixing Equipment Manufacturer will briefly introduce it.
First of all, during the work of the asphalt mixing station, the selection of its conveying pump has a great effect on the stability of the work. The conveying pump must meet the requirements for the maximum asphalt pouring per unit time during construction, such as the maximum height and the maximum horizontal distance. Claim. The delivery pump also needs to have a certain reserve of technology and production capacity when it is selected.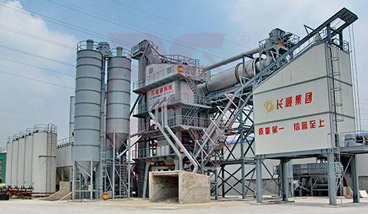 LB Asphalt Mixing Plant
Secondly, when the asphalt mixing station is working, its motion system and the hydraulic system must be in a normal state. The so-called normal state refers not only to the normal operation of the system but also to ensure that there are no abnormal noises and vibrations when working. During the work of the asphalt mixing station, the operator also needs to regularly check the equipment to see if there is a large aggregate or agglomeration inside the equipment, because if there is, it may jam or arch the feed inlet. This can cause blockages.
In addition to the above-mentioned method, which can maintain the working status of the asphalt mixing station stable, there is another point that needs to be paid attention to. That is if the asphalt mixing station is working at the same site, it is not suitable to choose too many and many Pumps from various manufacturers, which will affect the normal operation of the equipment.
Asphalt mixing station is very convenient. What parts is it composed of? Asphalt mixers are used more and more, because construction is being developed everywhere, and in order to meet different needs, there are more varieties of asphalt mixers. There are continuous drums and aggregates. What kind of mixing equipment are they?
Asphalt mixing equipment is mainly composed of a batching system, drying system, combustion system, hot material lifting, vibrating screen, hot material storage bin, weighing mixing system, asphalt supply system, powder supply system, dust removal system, finished product bin and control system, etc. Partial composition.
At present, the more common asphalt mixing equipment is mainly divided into three series: mobile double drum SLB series, mobile forced QLB series and finished warehouse bottom GLB series. LB Asphalt Mixing Plant can also be called green environmental protection equipment, which has First-class inertial dust removal, second-level bag dust collector system and negative pressure dustproof design of the building.