asphalt mixing plant
As a asphalt mixing plant manufacturer, Xitong successively successfully developed a series of asphalt mixing turnkey business for sale led by asphalt mixing plant and related supporting facilities. The core technology of the leading product "asphalt mixing plant" has independent intellectual property rights.housands of sets of asphalt mixing plant manufacturing experience and strong technical research and development capability, Xitong developed YBSJ series of pre-mixing mortar asphalt mixing plant. the emission concentration of asphalt flue gas was 2.40mg/m3, and all other environmental indicators are up to standard.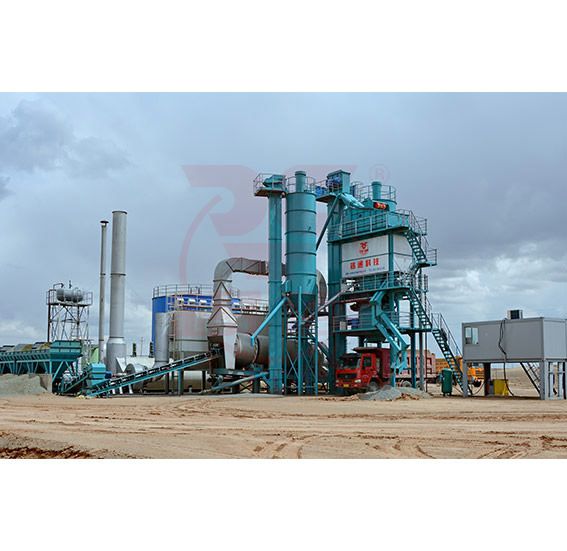 Series classification of asphalt plants
Mobile double drum asphalt plants
Features of double drum:
1. The overall design of the batching drying drum and mixing drum reduces cost for customers.
2. Forward rotation for drying, reverse rotation for discharge, central for inducing draft, the structure of the whole drum plant is simple and easy to operate.
3. PLC programmable centralized control, touch screen operation, automatic manual switching freely.
4. Mobile chassis structure makes transportation and installation fast and convenient.
5. Coal and fuel dual-use combustion furnace can be selected according to user needs.
Mobile Forced batching asphalt mixing plant
Features:
1. The overall design of the intermittent drying drum and the double-horizontal shaft mixing tank ensures more thorough mixing and better quality of the finished mixture.
2. Accurate measurement and stable quality.
3. Forward rotation drying and reverse discharge, the structure of the whole asphalt plant is of both high integration and easy operation.
4. PLC programmable centralized control, separate control with double IPC(industrial control computer) peer control(dual-control, mutual backup), automatic manual switching freely.
5. Mobile chassis structure. Make transportation and installation fast and convenient. Coal-fuel oil dual-use combustion boiler system can be selected according to user needs.
Advantages:
As we all know, asphalt mixing plant is a complete set of machinery for producing asphalt concrete mixture, which can meet the needs of highway, airport, port and other construction. Asphalt mixing plant is a good helper for many construction projects. It is worth mentioning that mobile asphalt mixing plant is deeply loved and trusted by customers for its superior quality and performance. Why is the mobile asphalt mixing plant loved and trusted by users? Detailed explanation would be given hereunder.
Mobile asphalt mixing plant adopts modular design, including batching system, drying system, combustion system, hot material lifting, vibrating screen, heat storage material, weighing and mixing system, asphalt supply system, powder supply system, dust removal system, Finished product silos, control systems, etc. Moreover, the module design is very convenient for users to install and move.
The mobile asphalt mixing plant has unique mixing blades to ensure its reliable working performance and strong mixing ability. The cold riveting process of the vibrating screen of the mobile asphalt mixing plant greatly improves the efficiency and stability, enables the aggregate to be effectively screened in a limited space, and reduces the failure rate of the equipment. The modular design of the dust removal system of the mobile asphalt mixing plant has a specially designed high-temperature filter cloth bag,which would save space and fuel, maximize the filtering area and reduce heat loss.
Mobile asphalt mixing plant covers a small area relatively, easy to move and operate, saving cost, time and manpower. It adopts computer automatic control or manual control system, and its automatic fault diagnosis program ensures the simple and safe operation of the machine. The mobile asphalt mixing plant adopts wear-resistant material, which is stable in operation and has a long service life. In short, the mobile asphalt mixing plant based on the characteristics of high integration and high mobility, is especially suitable for those projects with short pavement length and frequent replacement of operation site.
Full green type asphalt mixing plant video
Ready product silo underneath the mixing tower asphalt mixing plant
Features:
1. The bottom-mounted structure of the finished product silo is relatively a little different to the side-mounted structure, which greatly reduces the floor space of the equipment, while eliminating the lifting mechanism and the finished product trolley, and reducing the equipment failure rate;
2. Put the dust bag filtering process next to drying drum to reduce heat loss and save fuel and space;
3. The linear vibrating screen driven by the imported vibration motor improves the screening efficiency and reduces the equipment failure rate;
4. Aggregate hoist adopts double-row plate chain hoisting, which increases the service life of the hoist and improves the stability of operation;
5. Unique mixing blade design and extraordinary power-driven mixing cylinder make mixing easier, efficient and reliable;
6. The optimized structure of the drying drum lifting plate makes the drying system more efficient and stable;
7. Reserved RAP(recycled asphalt plant) equipment interface upon necessary.
8. Dual-machine dual-control full-automatic computer / manual control system with fault self-diagnosis feedback program, making operation simple and safe;
9. Modular design makes handling and installation faster and more convenient.
Environmental protection type asphalt plant
Features:
1. Primary inertial dust removal and secondary bag filter system and negative pressure dustproof design of the building;
2. According to the environmental protection concept of European standards, it provides customers with a guarantee that the equipment will fully meet the standards in terms of dust emission, acid emission and noise control;
3. Whether in the city or the beautiful mountain village, the plant can be integrated and live in harmony with the local environment.
Side type series asphalt plant
Features:
1. The inner liner of the mixing tank, mixing arm and the mixing pad are made of high-strength wear-resistant materials, which improves the service life;
2. First-level cyclone dust removal and second-level water dust collector system and negative pressure dust-proof design of the building are economical and practical, reducing investment costs for customers; customer could also choose bag filtering type dust collector for better performance.
3. The imported linear electric vibrating screen is used to improve the screening efficiency and reduce the equipment failure rate;
4. Aggregate hoist adopts plate chain lifting, which increases the service life of the hoist and improves the stability of operation;
5. The optimized structure of the drying drum lifting plate makes the drying system more efficient and stable;
6. The whole plant adopts modular design, which makes the handling and installation faster and more convenient;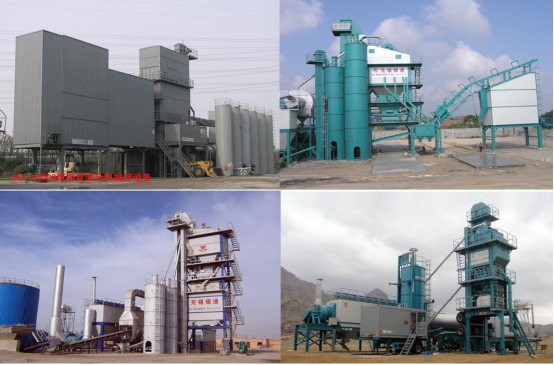 The importance of asphalt mixing equipment in road construction
It is undeniable that road construction has promoted the development of asphalt mixing equipment. As the saying goes, if you want to get rich, you must first build a road. It could be seen that road construction plays an important role in economic development. Therefore, with the rapid development of road construction, the demand for asphalt mixing equipment is also increasing. Traditional asphalt mixing equipment can no longer meet modern development requirements. Therefore, the asphalt mixing equipment has been upgraded and optimized according to construction requirements.
Asphalt mixing equipment is a kind of ordinary road construction machinery widely used in the construction of urban and rural roads, parking lots, highways, airports, ports and other roads. Continuously optimized asphalt mixing equipment can meet the different needs of various sites.
Features of asphalt mixing equipment:
1. The asphalt mixing equipment is equipped with an automatic fault diagnosis device, which can reduce the failure rate and reduce maintenance costs.
2. Adopting frequency conversion speed regulation device can automatically control and effectively adjust the processing speed.
3. The compact and reasonable layout of the asphalt mixing equipment is convenient for quick disassembly.
4. Asphalt mixing equipment adopts advanced PLC programmable electrical control system. The entire operation can be operated with simple finger touch buttons. High automation system can save a lot of time, manpower and cost, and can greatly improve work efficiency.
5. The data (bitumen composition formula, historical production records, etc.) can be saved through the safety protection device. Safety protection will be activated automatically in an emergency.
6. The aggregate and asphalt have a secondary metering device, which can ensure the accuracy of weighing and mixing, and produce high-quality asphalt mixtures.
7. Use high anti-fatigue and heat-resistant materials to extend the service life of each component.
8. The double-row chain plate aggregate lifting system has a return device to avoid aggregate backflow. In addition, the lifting system ensures more stable operation.
the sub-systems of asphalt mixing station
Today, common asphalt mixing equipment is mainly divided into five series: double drum series. Due to the low gradation, the utilization rate is not high, which is more suitable for projects that do not require high road quality; QLB-Y series asphalt mixing station, full mobile (Convenient for transfer); QLB-X series asphalt mixing station(, ready silo bottom-mounted with advantage of saving space and power; side type QLB series asphalt mixing station of finished products (most popular, moreover, due to cost considerations, ready silo could be saved or as an option).
The final type-green series, is the latest environmentally-friendly asphalt mixing Equipment, also known as a new type of urban green environmental protection equipment. Due to a series of factors such as China's domestic population, environmental pollution, economic development, and policy orientation, China's domestically-made environmentally-friendly equipment has taken the lead in the world.
The latter four series have the advantages of the first gravity dust removal plus the second baghouse dust collector system and the main building's negative pressure dust control design.
ub-systems or auxiliary equipment for asphalt mixing equipment:
Grading machine/ cold aggregate distribution machin
Drying cylinder/drying drum
Bag dust removal or water dust removal
Hot aggregate elevator
Mixing main building (sieve layer, storage bin, weighing layer, mixing tank)
Boilers and fast-heating asphalt tanks
transform the heating system of asphalt mixing equipment
The modification of heating system of the asphalt mixing plant could be processed on the basis of the original fuel burner to increase the gas/LPG function, or it can be directly replaced by an oil-gas-combination burner or a gas burner.
Asphalt hot in-place recycling plant,
Control room
Mineral powder bin and waste powder bin
Boiler
Temporary storage of finished materials/ready silo
Asphalt recycled material crushing and screening system
Asphalt recycling plant(RAP)
Bitumen melting system
Emulsified Asphalt Equipment
Reasonable wiring and installation requirements of asphalt mixing station
Asphalt mixing station is a relatively important equipment in highway construction during its use. In production, whether its electrical system works reliably, largely determines whether the asphalt concrete mixing station could be normally produced and whether road works could be completed as scheduled.
The installation of the asphalt mixing station from a large perspective, the content mainly includes foundation production, mechanical metal installation, electrical system installation and commissioning, asphalt heating and pipeline installation. The mechanical metal structure can be installed in one step under the condition that the asphalt station foundation is constructed, and it is rarely adjusted and changed in future production. Asphalt heating and pipeline installation are mainly for asphalt heating services, and the installation workload mainly depends on the equipment that stores and heats the asphalt.
Familiar with the system, wire reasonably
According to the drawings and the installation position of the electrical components, the wiring is concentrated from the peripheral part to the control units or the control room one by one. The cable should be arranged in a suitable path, and the weak electric cables and the strong electric signal cables must be arranged separately.
The electrical system of the asphalt mixing station includes strong current, weak current, AC, DC, digital signals, and analog signals. In order to ensure that these electrical signals could be effectively and reliably transmitted, each control unit or electrical component could output the correct control signal in time. And could reliably drive the various actuators, the reliability of the electrical circuit connection must be of high reliability. Therefore, during the installation process, it is necessary to ensure that the connections at various wiring points are reliable and the electrical components are correctly and properly installed and fastened.
The main control units of the asphalt mixing station generally adopt industrial control computers(IPC) or PLC (programmable logic controllers). Their control process is generally based on that as soon as the internal circuits detect the electrical input signals that meet a certain logical relationship, it will output electrical signal in accordance with a certain logic in time, to drive relays or other electrical units or components. The work of these relatively precise components is generally relatively reliable. If there is a failure during operation or trial running, first check whether the relevant input signals are all in place, and then check whether the required output signals are available and whether they are output in accordance with certain logic requirements.
In general, as long as the input signal is valid and reliable and meets the logic requirements, the output signal will be output according to the internal program design requirements, unless the wiring head (wiring board) is loose or the peripheral components and wiring related to these control units are faulty. Of course, in some special cases, internal components of the unit may be damaged or a certain circuit board may fail.
Mobile type asphalt plant installaion video
Faq of asphalt mixing plant

Guidelines for the Installation and Use of the Asphalt Batching Plant Discharge System
Key Role of Dosing System in Asphalt Mixing Plant
Control of Various Technical Parameters When Concrete Additives are Mixed in Asphalt Mixing Stations
Use and Maintenance of Drying Drum for Asphalt Mixing Equipment
Key Points of Electrified Trial Operation of Asphalt Mixing Plant
What are the Management Measures for Road Construction Machinery?
Asphalt Mixture Pavement Introduction
xitong is a high quality mobile asphalt plant supplier in China, our company based on the international trade industry and we provide the best products and services to places where the world needs it!